Truman E. Pomeroy Family Photographs
Cover Image: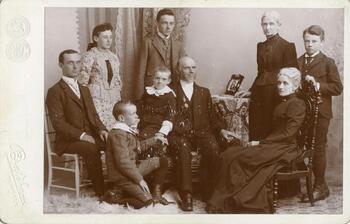 Collection Facts
Dates of Original:
c. 1850 - 1920
Historical Context
Truman E. Pomeroy Jr. (b. 1840 – d. 1894-02-05) was born in Margaretta, Ohio to Truman Pomeroy Sr. and Martha Whiting Reed. He attended college in Adrian, Michigan in 1860 enlisting in the 1st Michigan Infantry, Company K, when the Civil War broke out in 1861. Captured at the first battle of Manassas and returned in a prisoner exchange, Pomeroy re-enlisted, first into the 18th Michigan infantry, company C (alongside his future cousin-in-law Elvero Persons, who also appears in this collection) and later into the 12th Tennessee Cavalry, seeing further action at the battles of Franklin and Nashville. In 1869, he married Mary C. Opdycke, with whom he had three children: Gertrude (b. 1870-06-16), Catherine (b. 1874-09-17 - d. 1898-05-05), and Daisy (b. 1878-01-07, d. 1956-05). Pomeroy worked as a miller, a farmer, and sometimes as a teamster in Norwalk and Milan, Ohio until his death in 1894.
The Truman E. Pomeroy Jr. family held strong ties to New York State, especially the western counties. Truman Pomeroy Sr. resided in Monroe County as a young man and later served as Town Clerk for Hartland, Niagara County, NY before emigrating to Ohio.
Scope of Collection
This Collection contains portraits of multiple generations of the Pomeroy family, as well as many members of secondary lines, including the Opdycke, Reed, Persons, Norway, and McIntire families, who are well represented. Places of residence include New York, California, Ohio, Iowa, Pennsylvania, Colorado, and Missouri. The Persons and McIntire families, both relatives of the Reeds, resided in Monroe and Wayne Counties, New York. Almost every individual in this collection is listed in the APHGA's family tree database (link available in the description) where a detailed record of their life and genealogy is available.
The Truman Pomeroy Family Photograph collection consists of 46 card photographs of the extended family of Truman E. Pomeroy Jr., all dating from the mid-19th to early 20th centuries. These commercial portraits are cartes-de-visite or larger cabinet cards, both popular formats for family and individual portraits in the latter half of the 19th century. The former in particular became widespread at the beginning of the American Civil War, and were popular gifts to and from soldiers serving away from their homes and families. Most items in this collection have the name and address of the studio in which they were taken printed on the reverse side.
---
Browse within this collection
Browse similar collections