Syracuse Houses That Are No Longer
Cover Image: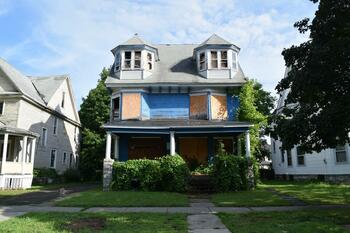 Historical Context
Hilary Donohue, working as an architect through City Link Architecture, is hired by the Syracuse Land Bank to officially condemn structures that are due for demolition for a variety of reasons. In most instances, these are the last photographs of houses and buildings before they are taken down. These properties have been seized by the City of Syracuse for tax delinquency and transferred to the Land Bank which attempts to get properties into better hands with demolition being a worst-case scenario when the structure is too far gone.
Scope of Collection
The photographs in this collection depict homes and other buildings in the Syracuse region that are about to be demolished.
---
Browse within this collection
Browse similar collections