SU College of Law Student and Alumni Publications
Cover Image: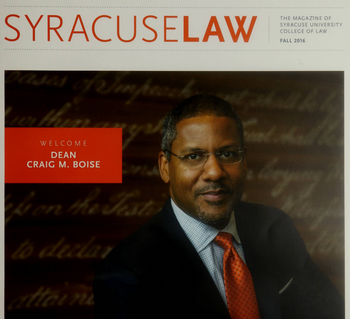 Collection Facts
Dates of Original:
1956 - 2016
Historical Context
Syracuse College of Law (SUCOL) has generated a variety of resources documenting the college's happenings as well as the thoughts and activities of its community. The Syracuse College of Law Publications collection contains documents about and/or created by the students, faculty, and staff of the college.
The Syndicus, later called Syracuse Law Magazine, was the school's magazine published from 1955 to 2016. It includes photographs, articles, and other information about SUCOL student life and events. Some issues detail the lives and plans of SUCOL graduates.
Scope of Collection
This collection contains issues of the Syndicus from 1956 - 2004 and Syracuse Law from 2004 - 2016. A number of issues reference President Joseph Biden Jr. or his son, Beau Biden, both of whom graduated from SUCOL.
---
Browse within this collection
Additional Information
Scope and Content Source:
Browse similar collections