Saranac Inn Photograph Collection
Cover Image: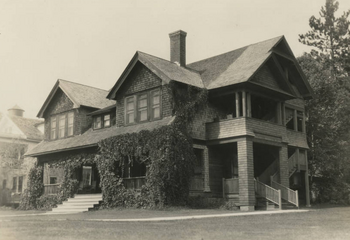 Collection Facts
Dates of Original:
1888 - 1962
Historical Context
The Saranac Inn was originally known as the Prospect House, which was built in 1864. Over time it was gradually enlarged to become a popular resort on Upper Saranac Lake. At the height of its popularity, it could entertain 1,000 guests. Eventually, due to dwindling business, the inn was closed in 1962 and was destroyed by fire in 1978.
Scope of Collection
This collection features photographs of the Saranac Inn Resort from 1888 through 1962. The images include the Main Inn Building, various cottages and other buildings, and the surrounding grounds. There are interior views of the lobby, auditorium, barroom, bedrooms, sunrooms, card room, and ballroom. There are images of the Lake, tour boats, and the golf course. Aerial views of the Saranac Inn campus are also included in this collection. Some photographs were taken by Seneca Ray Stoddard and William Langmead Distin.
---
Browse within this collection
Additional Information
Scope and Content Source:
Browse similar collections