Rochester Municipal Archives Modern Collection
Cover Image: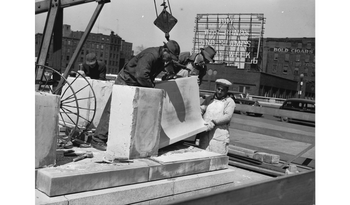 Collection Facts
Dates of Original:
1920-1960
Historical Context
Photographs in this collection were taken on behalf of and/or preserved by the City of Rochester to record civic events and municipal history.
Scope of Collection
The Rochester Municipal Archives is home to the official records of the City of Rochester, New York. Its holdings include extensive photograph collections. This collection consists of selected images taken from media including prints, safety negatives, nitrate negatives, and lantern slides. These materials date between 1920 and 1960. The photographs depict Rochester buildings and people, City of Rochester officials and employees, public works projects, and civic events.
---
Browse within this collection
Browse similar collections