Roberta Walsh Family Collection
Cover Image: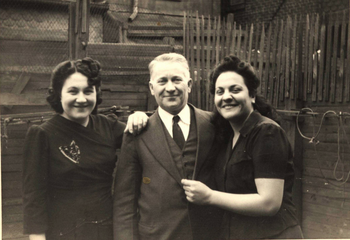 Collection Facts
Dates of Original:
1975 - 2000; c. 1880 - 1900; 1943 - 1945
Historical Context
The Roberta Walsh Family Collection offers insight into life in Rome, New York and the upper Mohawk Valley during the late nineteenth and early twentieth centuries. Roberta's mother, Barbara Seaton, was born in 1913 and attended the Rome Free Academy in Rome, New York. Her father, John Seaton, worked at Rome's Revere Copper and Brass Company. Roberta's uncle, Roger Burns, served in the Navy during World War II. His ship sank due to friendly fire and he is buried in Manila, Philippines. The collection also includes some artifacts from Roberta Walsh's grandfather, Antonio Abruzzio, who immigrated to Rome, New York from Italy. A family friend, Peter Marinaro, also came to Rome from Italy and was a close friend of the family. Both Antonio Abruzzio's and Peter Marinaro's stories offer a small look into immigration in the upper Mohawk Valley. Roberta collected a few Newport, New York area diaries that are also included in the collection. The materials grant a glimpse into life in the upper Mohawk Valley during the late nineteenth and early twentieth centuries.
Scope of Collection
This collection consist of newspaper clippings, photographs, documents, notes, letters, and financial information regarding planning reunions for the Rome Free Academy class of 1933. The collection also contains letters, photos, and information on Roger Burns's military service. The collection contains photos, award buttons and pins, and certificates commemorating John Seaton's work at Revere Brass and Copper Company. Also included are naturalization papers, passports, and alien registration cards from Antonio Abruzzio and Peter Marinaro. The collection contains three diaries and one day book from the Newport, New York area. Also included is a postcard collection and plaque with the key to a family member's coffin.
---
Browse within this collection
Additional Information
Scope and Content Source:
Browse similar collections