Otsego County Woman's Christian Temperance Union Collection
Cover Image: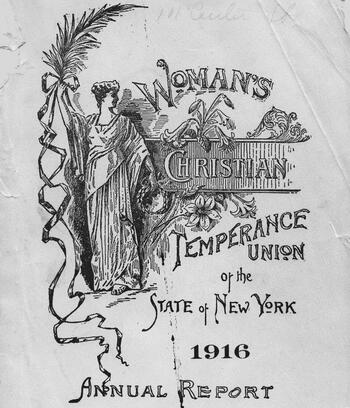 Collection Facts
Dates of Original:
c. 1904 - 1964
Historical Context
The Woman's Christian Temperance Union (WCTU) is an American organization that was founded in 1874. The WCTU was one of the largest and most influential women's groups of the 19th century. Among the many causes the WCTU has supported as an organization are abstinence of alcohol, the protection of women and children at home and work, and women's right to vote. There were chapters throughout the United States that fought at the local and state level to promote these causes.
Scope of Collection
This collection of 9 items, includes 1916 and 1917 annual reports of the Woman's Christian Temperance Union of the State of New York; Minutes and convention reports of the Otsego County chapter from 1904 to 1943; and other local WCTU records, particularly of Unadilla from 1927 to 1954.
---
Browse within this collection
Additional Information
Scope and Content Source:
Publisher of Digital:
Huntington Memorial Library
Browse similar collections