La Bella America: From the Old Country to the North Country
Cover Image: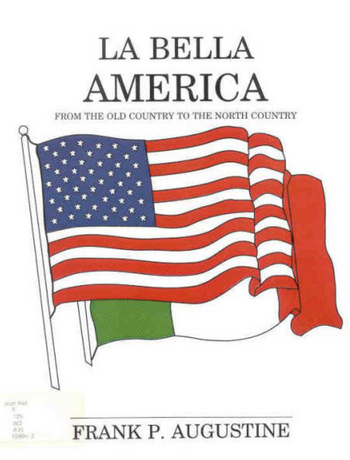 Collection Facts
Dates of Original:
1988 - 1989
Historical Context
In 1987 John B. Johnson, Sr., editor, and publisher of the Watertown (N.Y.) Daily Times, suggested to Frank P. Augustine, a 38 year Times employee, that he research the Italian community of Watertown. Augustine's work resulted in an 18-week series published in the Times from September 1988 to March 1989, and a book, La Bella America: From the Old Country to the North Country published by the Watertown Times. In the course of his research Augustine, himself a child of Italian immigrants went into the homes of members of the Italian community in Watertown. He tape-recorded over three dozen interviews, primarily with Italians who had come to the United States as young people in the early twentieth century. Most of those interviewed were in their late 70s, 80s or 90s. Assisting as interpreter was Henry V. Cumoletti, a Watertown resident who had served as an interpreter and court reporter at the Nuremberg Trials in 1946.
Scope of Collection
The book provides details on the relocation process and the personal stories of many of those affected by the loss of their communities. Information on the 19th-century iron industry in Jefferson County is included as it is central to the history of Sterlingville and the other communities in the surrounding area. Also included is information on James LeRay and his mansion, as well as a brief section relating to the detainment of POWs at Pine Camp during World War II.
---
Browse within this collection
Additional Information
Scope and Content Source:
Publisher of Digital:
Jefferson Community College Library
Browse similar collections