Julia Lawrence Hasbrouck Collection
Cover Image: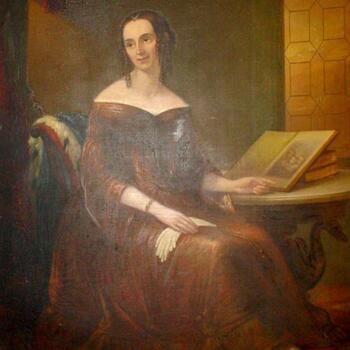 Historical Context
Julia Lawrence Hasbrouck (b. New York City, 1809) was one of eleven children born to Samuel Adams Lawrence and Catherine Remsen. Records can trace the prominent Lawrence family to Hertsfordshire, England as early as 1580. Julia Lawrence wed Garret Hasbrouck of Ulster County, in 1835. The Hasbrouck family was one of the original twelve Huguenot families who patented the village of New Paltz, New York in 1677. Garret Hasbrouck was the proprietor of a store in Greenwich Village near the Lawrence house. Although the Hasbroucks were well respected in Ulster County, their position in New York society was not equivalent to that of the Lawrences.
For nearly four decades, Julia Lawrence Hasbrouck diligently kept a diary, using it to chronicle her role and responsibilities as a 19th century wife, mother, and daughter. Julia's meticulous entries, written between 1838 to 1873, vividly expresses the tension in the lives of middle class women who were charged with raising responsible children and creating an emotionally sustaining home environment, but had little power over the world they inhabited.
Scope of Collection
This collection includes three of Julia Lawrence Hasbrouck's diaries, covering 1838-1841. It also includes portraits of the Hasbrouck and Lawrence families.
---
Browse within this collection
Browse similar collections