Historical Homer Collection
Cover Image: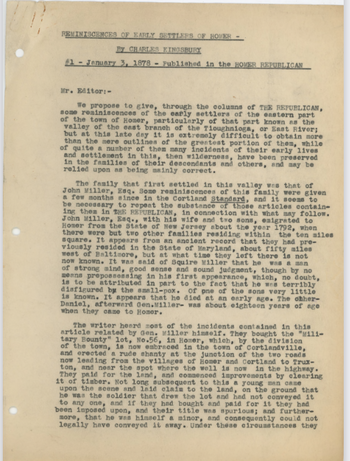 Historical Context
The Village of Homer was first settled by white people in 1791 within the township of Homer. These were the first white settlements in what is now Cortland County.  This land was originally part of the Central New York Military Tract, land that was doled out by the early American federal government to pay Revolutionary War soldiers for their service. 
Scope of Collection
This collection includes most of the serialized "Reminiscences of the Early Settlers of Homer," by Charles Kingsbury from 1879.  Kingsbury moved to Homer in 1830 and purchased the Burnham farm in the East River Valley.  He lived there until his death in 1887.  
This collection also includes "Lists of Letters Remaining in the Post Office of Homer Village," dating back from 1819 through 1829 and serving as an informal, if partial, census of presumed residents. 
---
Browse within this collection
Browse similar collections