Historic Postcards from Sardinia, NY
Cover Image: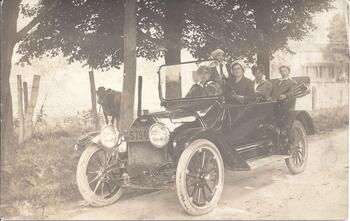 Collection Facts
Dates of Original:
1900 - 1930
Historical Context
Since it was founded in 1821, the town of Sardinia, NY, has remained a small, tightly knit rural community containing a mix of family farms and commuting laborers. Although rural, Sardinians have never been reluctant to adopt popular trends that often originated in the more populated cities. From the years 1900 to 1920, people across America witnessed a stunning advance in technology and improvements in quality of life. It was also a relatively prosperous time, and people were slowly learning how to have some fun and enjoy life. Taking pictures of those enjoyable and important things in life seemed to be the perfect way to capture and remember them. Turning those pictures into postcards allowed them to share their memories with friends and family who lived far away. Sardinia was no different, and this collection of postcard images carried a significant importance to not only the people who created them, but also to those who live there now and those who may be seeking a link to their ancestors who lived there long ago.
Postcards made from photographs were very popular in the early 1900s. They were relatively cheap to have made and durable enough to store nicely in albums or send through the mail. Postcards also offered a convenient way to have multiple copies of a favorite image made up and distributed to family and friends. Deciding which picture to make into a postcard was a careful process. Someone actually took the time to select the perfect picture, take it to Ed Miller's store in Sardinia Village, pay him to package it, and mail it to Germany to be reproduced onto a durable postcard. Often the subject in the photo was not very interesting or colorful to the uninformed or unrelated, but did represent something important to the person who took it and wanted it copied. Views of store fronts, main streets, churches, trains, parades, automobiles, the circus, people in groups, houses, family members, kids, etc., tell us these things held some value and were a big part of life in tiny Sardinia at the turn of the 20th century.
Back then, picking a photo important enough to be turned into a postcard would be similar to today's practice of posting a favorite picture to your Facebook profile. You don't just pick any old picture—it's a careful selection process which says the owner is proud of this image, and it means something to him or her. Pride in town, pride in family, pride in modernity, pride in religion, pride in worldliness, were and are uniquely human traits that shine through, whether in the black and white flatness of yesterday or the brilliant three-dimensional colors of today. Perhaps this quaint collection of historic postcards from Sardinia helps in a small way to portray and preserve that fundamental pride of place for which everyone longs.
Scope of Collection
This collection of black-and-white photographic postcards dates to the early 20th century. They depict prominent buildings in Sardinia, including churches, storefronts, schools, and businesses. There are also families and notable individuals pictured, including a World War I soldier. Images of community events and parades are also included in this collection.
---
Browse within this collection
Additional Information
Scope and Content Source:
Browse similar collections