The Growing Place Collection
Cover Image: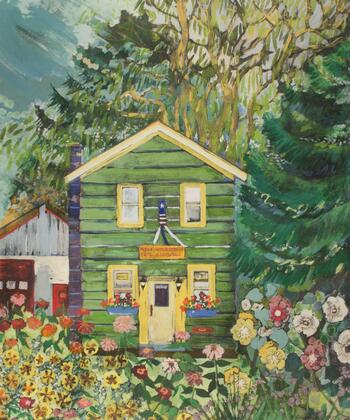 Historical Context
Nestled in a verdant valley among the rolling drumlins of Central New York, the hamlet of New Woodstock is a portrait of Americana worthy of a Norman Rockwell pastoral or a John Muir nature essay. At the heart of the community is the New Woodstock Free Library, chartered by the State of New York in 1939 to bring culture to the country and art to the bucolic landscape. The library is for all "The Growing Place."
In such a setting of natural beauty and historical richness, art in all its variety thrives. Since its inception the library has been the catchment for the works of artists and artisans. Numerous exhibits and curated shows have provided individuals of all ages and ability with a venue for display of their works. Over time, the library acquired a representative collection of works that reflects the growth of individual artists and community tradition. The Growing Place Collection is the virtual avatar of the community's history in art.
Scope of Collection
Comprised of paintings, etchings, drawings, and other works of art, this collection documents the local community of artists in New Woodstock, NY.
---
Browse within this collection
Additional Information
Scope and Content Source:
Browse similar collections