George W. Fenner World War I Photographs, Syracuse, NY, 1918
Cover Image: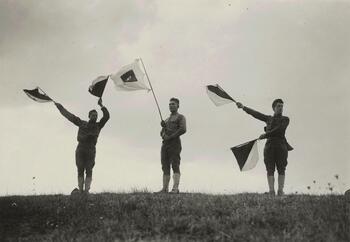 Historical Context
Syracuse served as a recruitment and training location for new troops during World War I. Situated on the state fairgrounds and in nearby Lakeland, over 30,000 troops were stationed at Camp Syracuse.
George W. Fenner was a staff photographer for the Syracuse Post-Standard Newspaper in the early 20th century.
Scope of Collection
This collection contains black-and-white photographs taken by George W. Fenner in 1918 pertaining to the War effort. Included views are of various parades supporting the War and drafted men leaving Syracuse for training camps.