Cortland County Radioactive Dump Collection
Cover Image: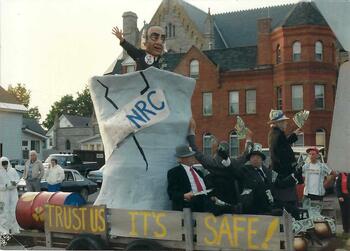 Collection Facts
Dates of Original:
1989-1995
Historical Context
In the 1980s, the federal government determined that every state had to manage its own nuclear-power-related waste.  New York established a low-level radioactive waste siting commission to find sites in New York appropriate for a nuclear waste dump. Sites were considered for their population, distance from aquifers, and other factors.
Cortland County and Allegany County were selected as finalists.  A farmer in Taylor, Cortland County offered to sell his land to the state for a location.  Residents throughout the county objected as Mario Cuomo's administration opened information offices for the LLRW site commission.
This collection of photographs and clippings was donated by Jim and Jean Weiss of Freetown in Cortland County, who were active protestors against the dump. They founded CARD (Citizens Against Radioactive Dumping).
Scope of Collection
Photographs taken by protestors and clippings from local newspapers.
---
Browse within this collection
Browse similar collections