Conglomerate Class Photos
Cover Image: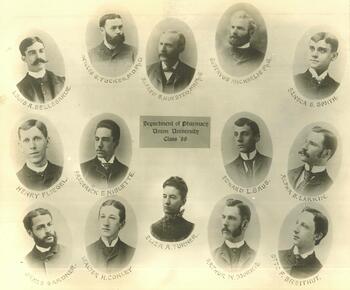 Collection Facts
Dates of Original:
c. 1880 - 1940
Historical Context
Starting in 1883 portraits of the graduating classes of Albany College of Pharmacy were taken. Individual photos were taken and assembled together in larger conglomerate groups. Some were labelled with the names of individuals and their positions within the College; some were not. More rarely, these portraits were taken as group shots. The 1930s saw the last of these commemorative portraits.
Scope of Collection
A collection of photographs mounted in a scrapbook constructed of stiff card stock. They represent graduating classes of Albany College of Pharmacy from the late nineteenth to the early-twentieth centuries. Years 1886, 1887, 1892, 1918, 1926, 1927, and 1929 are missing.
---
Browse within this collection
Additional Information
Scope and Content Source:
Publisher of Digital:
Albany College of Pharmacy and Health Sciences Byrnes '34 Archives
Browse similar collections