Clarkson University Postcards Collection
Cover Image: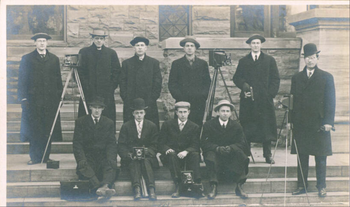 Collection Facts
Dates of Original:
c. 1900 - 1910
Historical Context
Named for Northern New York entrepreneur Thomas S. Clarkson, Clarkson University was founded in 1896 in Potsdam, New York, first as the Thomas S. Clarkson school of Technology, then becoming the Thomas S. Clarkson Memorial College of technology, then Clarkson University in 1984. In its early days, the school's focus was on teaching technical skills such as electrical engineering, wood-working, applied chemistry, and machining. The college also had music groups and a photography club.
Scope of Collection
This collection consists of a number of postcards containing images of the Clarkson College campus, dating roughly to the 1900's. Most of the photographs are of the college's wide variety of engineering shops and laboratories, as well as of student clubs and organizations.
---
Browse within this collection
Additional Information
Scope and Content Source:
Publisher of Digital:
Clarkson University Library
Browse similar collections