Chittenango Landing Historic Photograph Collection
Cover Image: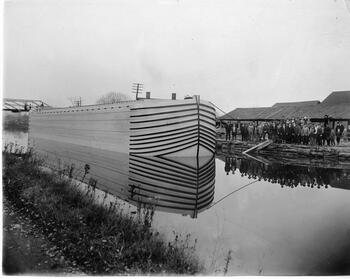 Collection Facts
Dates of Original:
c. 1890 - 1950
Historical Context
The village of Chittenango is located in Madison County, New York. The village started to grow because of the Erie Canal, which opened in 1825 and connected multiple cities in New York State to increased trade and travel. Since the Erie Canal passed through the area to north of the village, the Chittenango Canal Company built a spur that connected to the Erie Canal proper. This resulted in the creation of the Chittenango Canal Boat Landing, which helped to make the village a waypoint along the canal. The village of Chittenango was officially established in 1842, during a period of growing industries for travelers and traders alike. Doran Dry Dock, located in the neighboring town of Durhamville, was the site of canal boat construction and repair. Durhamville also featured a canal lock and aqueduct crossing over Oneida Creek, until the canal was rerouted to bypass Durhamville, Chittenango, and other villages in the area.
Scope of Collection
The Chittenango Landing Canal Boat Museum Digital Photographic Collection is a small portion of the entire photographic collection, owned by the Chittenango Landing Canal Boat Museum. The collection represents a historical overview of Chittenango Landing and the surrounding areas that had significant importance to the canal boat industry in the middle section of the Erie Canal. Among some of the most valuable photographs are images of boats, dry docks and boatyards, workmen, views of Chittenango Pottery and Cannery. Some of the original images in this collection were used to recreate the Chittenango dry dock complex.
---
Browse within this collection
Additional Information
Scope and Content Source:
Browse similar collections