Logo:
303 Genesee Street
Utica, NY 13501
Phone: 315.735.2279

About
Utica Public Library is a beautiful Neoclassical style library built in the early 20th century. As the central library for the Mid-York Library System, comprised of all public libraries in Oneida,Herkimer and Madison counties, the Utica Library serves as a regional resource center with one of the largest and most extensive collections in the tri-county area. The mission of the Utica Public Library is to develop the resources that enable us to serve as the source of information for our community.
The library has an impressive genealogy and local history collection, including many atlases and maps.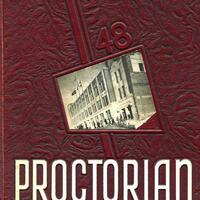 This contains yearbooks from the Proctor High School, later renamed to Thomas R. Proctor High School, and covers some of the years from 1940-1970.
Early 20th century photographs of churches and synagogues in Utica, New York taken by photographer Allen J. Manning
Utica Free Academy Yearbooks, Academician, from 1927 to 1971.