Ticonderoga Historical Society
Logo:
6 Moses Circle
Ticonderoga, NY 12883
Phone: 518-585-7868

About
The Ticonderoga Historical Society, organized in 1897 and chartered by the Board of Regents in 1909, advances the preservation and interpretation of history through our collections, programs and community outreach, perpetuating American traditions for future generations. We focus on the historical, educational, scientific and social aspects of the Adirondack Mountains and Lakes regions of northeastern New York State while preserving and promoting our unique cultural history. The Ticonderoga Historical Society has sponsored the development of Champlain Legacy Park in Ticonderoga on the banks of the La Chute River with direct access to Lake Champlain. Once a barren parcel, the Park is now home to a magnificent Samuel de Champlain monument, beautiful native trees and shrubs, historic flower gardens, arbors and more. The installation of the Liberty Pole and a walking trail access to the Falls are our more recent advances.
The Ticonderoga Historical Society is a research center and four-story museum housed in the historic Hancock House. The Society's holdings include more than 7,000 volumes, newspapers, manuscripts, journals and other original ephemera pertaining to the history of the Adirondacks and Lake George Regions.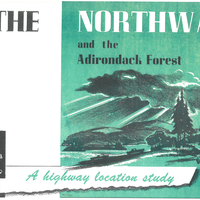 Grant W. Johnson of Ticonderoga served as Essex County's lone State Assemblyman from 1953 until his death in 1965. In that time, New York's roads were of particular interest to him, especially the proposed "Adirondack Northway," an extension of the State Thruway's I-87 segment, that would link Albany to the Canadian border. This collection documents Johnson's role, and that of others, from Governor Thomas E. Dewey's proposal for a major highway to connect New York City and Montreal in 1953 to the 1960 aftermath of the referendum results. Researchers interested in the early implementation of the National Interstate and Defense Highways Act of 1956, the Adirondack Park, or state and local politics of the era will find much of value in this collection.