State University of New York at Canton - Southworth Library
Logo:
Department: College Archives
34 Cornell Drive
Canton, NY 13617
Phone: 315-386-7228
Fax: 315-386-7931
About
The College Archives was established in 1973 in the Merritt-Wright Room in Southworth Library at the State University of New York at Canton to collect, arrange, house, and provide access to the materials of unique significance for this college. The College Archives is now considered closed stacks, and is located in the basement of Southworth Library Learning Commons. The College Archives is responsible for the collection, preservation, and housing of the papers, records, photographs, oral records, and other materials of permanent value generated by the college, students, and personnel for the use and research of the campus and the community.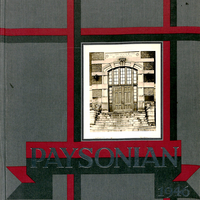 This collection consists of issues of SUNY Canton's Agricola and Paysonian yearbooks dating between 1911 and 2016.