Saranac Lake Free Library
Logo:
109 Main Street
Saranac Lake, NY 12983
Phone: 518-891-4190
Fax: 518-891-5931
About
The Adirondack Collection at the Saranac Lake Free Library consist books, manuscripts, documents, maps, photographs and other printed materials illustrating the history of the Adirondacks with emphasis on Saranac Lake and the central Adirondacks; federal and some state census data for Essex, Franklin, Clinton and St. Lawrence counties covering federal census years 1850-1920 (1925 NY); the Adirondack Genealogical and Historical Society's books of cemetery inscriptions for southern Franklin County; church records; and an obituary index for the Tri-Lakes area.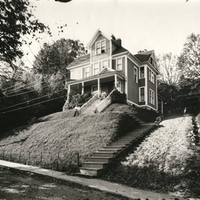 Cure Cottages, offering rest and fresh air, were used as a tuberculosis treatment in the late 19th and early 20th century. This collection of photographs depicts many of the Cure Cottages of Saranac Lake.