Rensselaer County Historical Society
Logo:
57 Second St.
Troy, New York 12180


About
The RensselaerCounty Historical Society and Museum was established in 1927 to connect local history and heritage to contemporary life. We enrich the present and advocate for the future by bringing the regions past to life, recognizing every face and every story. In pursuit of this mission, we collect, preserve, study interpret and make accessible a broad variety of objects and documents, and conduct educational programs to inspire public enthusiasm for the past. RCHS manages and administers the largest local history library, archives and research center in Rensselaer County.

Please note, in 2019, the Rensselaer County Historical Society changed its name to the Hart Cluett Museum at Historic Rensselaer County in efforts to rebrand the institution as a more inclusive space. Though legally still known as the Rensselaer County Historical Society, the organization is DBA the Hart Cluett Museum.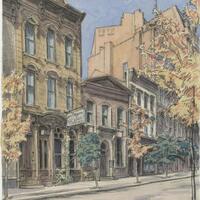 This collection is Edgar Holloway's commissioned works to paint and document Troy, New York and the surrounding area's architectural and industrial heritage in 1972.