Logo:
90 Quogue Street
PO Box 5036
Quogue, New York 11959
Phone: (631) 653-4224

About
The Quogue Library was chartered by the State of New York in 1897. Governed by the Library Board of Trustees and managed by the Library staff, the Library aims to meet the educational, informational, cultural and recreational needs of the residents of the Quogue School District and residents of East Quogue who select the Quogue Library as their home library. 
The Library strives to offer welcoming, supportive and inclusive service to all. The staff cares for Quogue's public library collection and access to borrowable materials and downloadable resources, all of which is funded through tax-payer support.
The Quogue Library provides a welcoming environment that encourages the pursuit of knowledge, fosters intellectual curiosity and promotes lifelong learning through traditional and innovative services, resources and programs.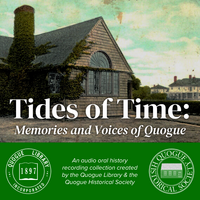 Audio interviews with residents of the Village of Quogue