Nathan S. Kline Institute for Psychiatric Research
Logo:
140 Old Orangeburg Rd
Orangeburg, NY 10962
Phone: 845-398-6575

About
NKI is a research facility of the New York State Office of Mental Health, located on the Rockland Psychiatric Center campus in Orangeburg, NY. Since its founding in 1952, NKI researchers have made numerous contributions to the field, always with the ultimate goal of improving the lives of people suffering from psychiatric disorders.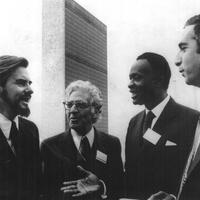 Historical images of former NKI institute directors, politicians, and notable mental health figures.