Museum of disABILITY History – A Project Of People Inc.
Logo:
3826 Main Street
Buffalo, New York 14226
Phone: (716) 629-3626

About
Established in 1998 by Dr. James M. Boles, president and CEO of People Inc. (Western New York's leading non-profit human services agency) the Museum of disABILITY History has steadily expanded over the years and, in late 2010, moved to a brand new location (pictured above).
The Museum of disABILITY History is dedicated to advancing the understanding, acceptance and independence of people with disabilities. The Museum's exhibits, collections, archives and educational programs create awareness and a platform for dialogue and discovery.
The Museum of disABILITY History is a project of People Inc. and is chartered by the New York State Department of Education Board of Regents. People Inc. exists so that individuals with disabling conditions or other special needs have the supports they need to participate and succeed in an accepting society.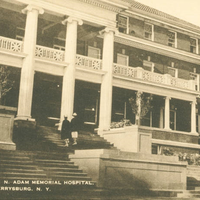 The Museum of disABILITY History's J. N. Adam Memorial Hospital collection consists of 6 copies of the magazine "Grit-Grin" published between 1928 and 1939 and 10 postcards chronicling life within the hospital. "Grit-Grin" was produced by Hospital Staff and residents and offers valuable insight into this isolated community.