Library Association of Rockland County - Pearl River Library
Logo:
Parent Organization: Library Association of Rockland County
8 Franklin Ave
Pearl River, New York 10965
Phone: 845-735-4084

About
The Pearl River Public Library is dedicated to meeting the information needs of the entire community, regardless of age, origin or beliefs, through its collection of materials.
The Library has photographs and ephemera dating from 1872 to present that are significant to the history of the establishment and development of the hamlet of Pearl River. Subjects of interest include the history of the Library, the Dexter Folder Company, Julius Braunsdorf, Lederle Laboratories, local cemeteries, fire departments, civic organizations and the Pearl River Schools. Many of our materials, such as the Mary Merli Schiavi and George Springsteen Collections, have been generously donated to the Library by individuals in the community.
Special Content:
Note: The search box on this page will search materials from all Library Association of Rockland County participating libraries. If you are interested in searching or browsing only those items contributed by Pearl River Library, click on the collection link below.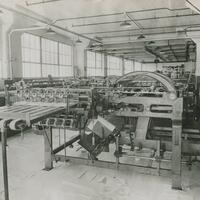 Images, documents, and ephemera relating to the formation and development of Pearl River, New York.