Keuka College - Lightner Library
Logo:
Parent Organization: Keuka College
141 Central Avenue
Keuka Park, New York 14478
Phone: (315) 279-5632

About
In 1890, the founder of Keuka College, a Baptist minister named Rev. George Harvey Ball, had a vision. Today, we continue that mission by educating young students and adult learners "to bring strength to our nation and to help humanity" through combined classroom and experiential learning activities. We challenge students to develop their intellectual curiosity and to realize, with purpose and integrity, their full personal and professional potential.
The Keuka College Archives and Special Collections (KCASC) collect, describe, preserve, and make accessible the non-current official records, publications, ephemera, and other materials by and/or about persons, organizations, or events associated with Keuka College, which have legal, administrative, or historical value. These collections are housed in the Lightner Library. For more information about our collections, please visit: https://libguides.keuka.edu/kcasc.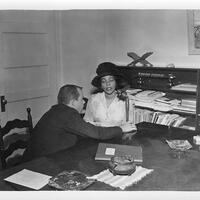 These photographs and letters detail Coretta Scott King's visit to Keuka College in June 1970.
These photographs and letters detail Dr. Martin Luther King, Jr.'s visit to Keuka College in June 1963.
Postcards from Keuka Park, NY.