John Jermain Memorial Library
Logo:
Department: Local History and Special Collections
201 Main Street
Sag Harbor, NY 11963


About
The John Jermain Memorial Library is the free public library of Sag Harbor, New York. It is located on the South Fork of the East End of Long Island, approximately 100 miles from New York City.
The library was commissioned by part-time Sag Harbor resident and philanthropist Margaret Olivia Slocum Sage in memory of her grandfather, Major John Jermain, and presented by her as a gift to the people of Sag Harbor. The Greek classical revival building was designed by Augustus N. Allen and includes a domed ceiling built by the R. Guastavino Company. On October 10, 1910 the doors opened with 5,000 volumes available, with Olive Pratt Young acting as librarian. In 1911, Mrs. Sage helped finance local pharmacist and Algonquian linguist William Wallace Tooker's book Indian Place-Names on Long Island. The book was published for the library by G.P. Putnam's Sons. As part of this agreement, Tooker's personal library and a portion of his personal papers were donated to John Jermain. Along with Mrs. Sage's own personal donations of artifacts and documents, the Sag Harbor History Room collection was formed.
In 2009, residents of the Sag Harbor Union Free School District approved a referendum for the complete restoration of the historic 1910 building and a three-story addition. The building reopened to the public on July 23, 2016.
Today, Local History and Special Collections holds and continues to collect rare books, photographs, personal and family papers, business records, newspapers, maps, pamphlets, artists' books, artifacts, scrapbooks, oral histories, video recordings, and ephemera documenting the history, people, and communities of Sag Harbor.
Photographs of the John Jermain Memorial Library.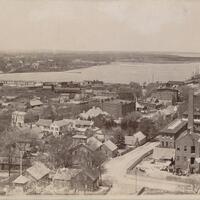 Historical photographs of the Sag Harbor, NY community.