Ilion Free Public Library
Logo:
78 West Street
Ilion, NY 13357
Phone: 315.894.5028

About
The founding force behind the Ilion Free Public Library was Clarence W. Seamans. Seamans was born in Ilion New York, June 5th 1854. He was educated in the public schools until he was 15 years old and began to earn his living in the employ of the Eliphalet Remington & Sons arms works in his native town. In 1875, he abandoned that work temporarily and went to Utah where he spent three years as a mine superintendent, returning in 1878 to become manager of typewriter sales for Fairbanks & Co., and Eliphalet Remington & Sons. In 1882, he organized the firm of Wychoff, Seamans and Benedict, which was later incorporated as the Remington Typewriter Co. In 1893 he became its president.
During his long years with the Remington Company, Seamans was known for his philanthropic activities including the founding, planning and implementation of the new library. In 1891, Seamans purchased land for the site of the new library from Michael Gibblin. The Romanesque-styled building was designed by the architect George P. Chappell of New York City, and executed by the local builder Albert N. Russell. Two years later, on October 27th 1893, the library was formally opened. At that time a bill was introduced into the New York State legislature and shortly thereafter passed and signed by the Governor Hank Gardner, authorizing the Village of Ilion to appropriate money for the maintenance of the new library.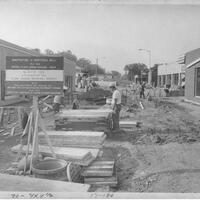 This collection contains photographs of the village of Ilion, New York that were affected by an urban revitalization project conducted from 1968-1972.
The Ilion High School Yearbook Collection contains ninety-two annual publications, from the earliest available yearbook in 1909 to 2013 when the district merged with Mohawk CSD.
This collection contains photographs from 1875 to 1935 and shows how the village of Ilion looked before, during, and after the building boom that occurred in the late 1800s to early 1900s.