Logo:
212 Center Street
Ithaca, NY 14850
Phone: 607-273-6633

About
Mission: To promote the value and enhancement of our historic buildings and neighborhoods through education, advocacy, and action.
Vision: For Tompkins County to be a community where historic places are treasured and preserved by all.
Established in 1966 as a community response to threats to downtown Ithaca landmarks, Historic Ithaca is the non-profit voice for preservation in Tompkins County and the Finger Lakes Region. We engage in Advocacy and provide Preservation Services to individuals, businesses, and municipalities throughout the Finger Lakes Region. We maintain a Library of the Built Environment, sponsor tours and lectures, and conduct hands-on workshops. Since 1991 we have operated Significant Elements, our non-profit architectural salvage store, through which we provide job training to youth and young adults with barriers to employment in our Work Preserve program.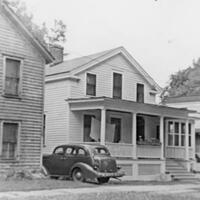 This collection includes photographs of buildings in the city of Ithaca in Tompkins County, New York, taken in 1954 by Roy Wenzlick and Company.