George F Johnson Memorial Library
Logo:
1001 Park Street
Endicott, New York 13760
Phone: 607-757-5350
Fax: 607-757-2491
About
George F. Johnson Memorial Library is located in Endicott, a few miles west of Binghamton in New York's Southern Tier. Open since 1915, "GFJ" has previously operated under the names "Endicott Free Library" and "Ideal Home Library." It is noted for pioneering mobile service with one of the first bookmobiles (horse-drawn) in the northeast U.S. in 1916. The library is named after the local industrialist, philanthropist, and shoe magnate known for his benevolence and many contributions to the community; and sits on the site of his former home. Library collections of note include newspapers dating to 1856, photographs, George F. Johnson memorabilia, and Union-Endicott High School yearbooks.
This collection includes many papers that enjoyed short runs, some originating in the old village of Union that merged with Endicott in 1906.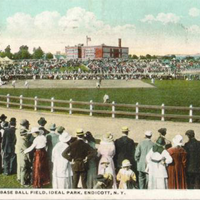 This collection contains photographs and postcards that share the history of the Village of Endicott.