Forest Lawn Cemetery - Margaret L. Wendt Archive and Resource Center
Logo:
Parent Organization: Forest Lawn Cemetery
1411 Delaware Avenue
Buffalo, NY 14209
Phone: (716) 288-5999

About
Forest Lawn is a historic garden cemetery founded in 1849 whose first interment was in 1850. Still in operation, the cemetery is the final resting place for the many men and women who built and made Buffalo, Western New York, and the Nation what it is today. The Margaret L. Wendt Archive and Resource Center is a local resource that makes available the cemetery's 1.2 million historic documents including over 350,000 individual family records. Records available at the Wendt Center facilitate genealogical and historical research.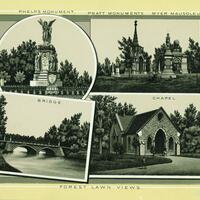 The collection contains images from the 19th and 20th Centuries showing historic views of Forest Lawn. These images are digitized from original glass plate negatives, photographic prints, lithographic drawings, stereoscopic views and commercial postcards. The earliest images of Forest Lawn document newly erected family lots and were intended to help illustrate the beauty of the landscape as well as drive sales in an era when buying pre-need burial space was a foreign concept. Glass plate negatives come from the McDonnell & Sons Monument Company and show the construction and completion of many monuments found throughout the grounds. Later photographs come from various commercial photographers and from the Papers of Vernon L. Thompson collection. Vernon L. Thompson was the Vice President of Forest Lawn in the mid-20th Century and his meticulous record keeping produced a wealth of documentary evidence of the daily course of business. Postcards were commercially produced images which were largely sold as souvenirs. The golden era for postcards seems to have been from the Turn of the Century to around WWI and typically featured picturesque scenes and architectural landmarks.