Fayetteville Free Library
Logo:
Department: Local History Room
300 Orchard Street
Fayetteville, NY 13066
Phone: 315.637.6374

About
The Fayetteville Free Library began as a subscription reading room in 1906 when 50 public-minded citizens banded together to share their periodical subscriptions. The Library grew rapidly, expanding services as it moved from the front parlor of a private home, to a Greek Revival house across the street and then in 2003 to the former Stickley Furniture factory at 300 Orchard Street, renovated and repurposed to accommodate patrons of all ages with state-of-the-art technology, collections, and program opportunities.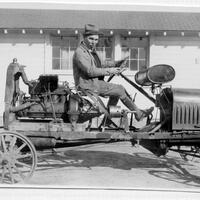 The Green Lakes Collection is mostly comprised of photographs that belonged to Arvin Almquist, who was Superintendent of Green Lakes State Park from 1928 to 1948.
The Fayetteville Free Library Postcard Collection is a representative sample of postcards, featuring historic images of the Fayetteville village streetscape dating back to the early 19th century.
The Women of Fayetteville collection comprises images of Fayetteville women and their activities dating back to the 19th century.