Edith B. Ford Memorial Library
Logo:
7169 N. Main Street
PO Box 410
Ovid, NY 14521
Phone: (607) 869-3031

About
The Edith B. Ford Memorial Library provides access to information and programs to inspire lifelong learning for the cultural, educational, and professional enrichment of our community. The Local History Archives Room holds a special collection of local history materials including: books, photographs, newspapers, and collections pertaining to local families, important industries and institutions.
The library was founded in 1899, and granted the Charter from the University of the State of New York in December 1899 as the Ovid Free Library. The library was first located in the home of James French, which also served as the office of the Ovid Gazette and Independent. In 1905 the library moved into the Seneca County Clerk's Office or Mama Bear. In 1961, Dr. Walter B. Ford, a renowned mathematician, educator, and author donated money to build a library in honor of his late wife and educator, Edith Banker Ford. In 1962, the library was moved into its new building designed by John C. Ehrlich of Geneva. In October 1962, the Absolute Charter was amended and the name was changed to the Edith B. Ford Memorial Library of Ovid, New York.
The Cayuga and Seneca Lakes Agriculture and Craft Beverage Memory Project is a two-year oral history project. The interviews document and preserve the personal stories of wine, cider, beer and other beverage producers between Cayuga and Seneca Lakes. The project was created by The Edith B. Ford Memorial Library with funding from the Institute of Library and Museum Services (IMLS). The project will produce more than forty interviews over the course of the two-year period.
Two scrapbooks compiled by Anne Maycock Hopkins, wife of Dr. Horace G. Hopkins, physician at former Willard Asylum and Willard State Hospital from 1874-1894.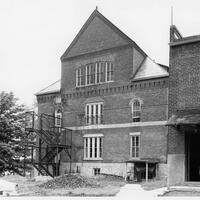 Collection of photographs taken from 1957 through 1968 of various buildings and grounds of Willard Psychiatric Center. The black-and-white photographs contain detailed studies of various buildings of the hospital, many of which have been since torn down