Daemen University - Daemen University Library
Logo:
Parent Organization: Daemen University
4380 Main Street
Amherst, New York 14226
Phone: Phone: (716) 839-8243

About
Daemen University is a private, nonsectarian, co-educational, comprehensive college in the attractive suburban location of Amherst, New York. The College was established in 1947 as Rosary Hill College by the Sisters of St. Francis of Penance and Christian Charity, whose foundress was Magdalene Daemen, a Dutch woman dedicated to working with the poor. Originally a liberal arts college for women, the College became co-educational in 1971 and nonsectarian in 1976, changing its name to Daemen College. In March 2022 it became Daemen University. The Daemen University Library, located in the Research and Information Commons, manages an archival collection that includes publications, photographs, and other materials documenting the rich history of the College.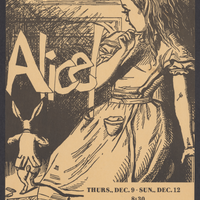 A small collection of posters advertising theatrical productions at Daemen College (formerly Rosary Hill College). Posters date from 1972 to 1987.
The Summit was the annual yearbook of Daemen College (formerly Rosary Hill College), published between 1952 and 2012. The collection consists of all volumes dating between 1952 and 2008.