Massapequa Public Library
Logo:
Department: Special Collections
40 Harbor Lane
Massapequa, New York 11762-3802
Phone: 516-799-0770
Fax: 516-795-7528
About
In February 1952, two petitions were received by the Massapequa Board of Education asking for the creation of a school district public library in Massapequa. By May of 1952 a budget of $10,000 was approved, the first library Board of Trustees was appointed, and the Massapequa Public Library was born!
The board appointed the library director, and other staff members were hired. It was now time to set about the hard task of creating a new library from scratch . . .
On January 18th, 1953, the Massapequa Public Library opened its doors for the first time. It was a small rented storefront library located on 526 Broadway, Massapequa, at what is the current site of Bravo Pizzeria.
Katharine Smith generously donated land upon which to build a new library building. By September 25th, 1955, Groundbreaking Ceremonies were held for the Massapequa Public Library at 523 Central Avenue. The Central Avenue building of the library opened on September 12th, 1956.
The library book trailer was put into service on January 16th, 1961. It was decommissioned on July 31st, 2009.
The library received a generous donation of land from the Bar Harbour Shopping Centre, Inc., in 1959. The Ground Breaking Ceremony for the Bar Harbour Library Building was held in April of 1964, and dedication ceremonies were held on June 13th, 1965.
As time went, there was a call to make renovations at both library buildings. Renovations for the Bar Harbour Library were completed in 1999, and renovations for Central Avenue were completed in 2001.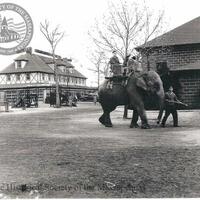 Photographs, slides, postcards, books, magazines and other miscellany documenting the history of Massapequa.
Photographs, books, pamphlets, magazines and other memorabilia from the Massapequa Library.