Logo:
Department: College Archives
Ithaca College Library
953 Danby Road
Ithaca, New York 14850-7002
Phone: 607-274-3206

About
The Ithaca College Archives and Special Collections are a part of the Ithaca College Library and hold unique collections relating to Ithaca College. Many additional images of Ithaca College are available at the repository and some will be added to the online collection in the future. The College Archives, located on the fifth floor of the Gannett Center, is the repository for official records of Ithaca College, the Ithaca Conservatory of Music (1892-1926) and the Ithaca Conservatory and Affiliated Schools (1926-1931).
Images and documents from the downtown era of the College and its predecessors, Ithaca Conservatory of Music and the Ithaca Conservatory and Affiliated Schools. It provides a unique view of downtown Ithaca in the first half of the 20th century.
C. Hadley Smith's photographs of Ithaca College from 1950 into the 1980's. All of the images in this collection were taken by Mr. Smith and he generously donated them to Ithaca College. This collection of images is of Ithaca College: our people, our places and our events. Of particular importance to the College is the transition from the downtown campus to the new campus and recognition that this campus has grown and changed and been transformed since 1960. Beyond the specific history of the College, this collection holds a visual slice of American history through the people it portrays.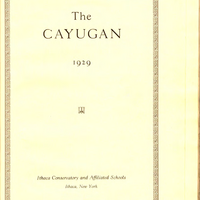 Curated by the College Archivist, this community contains historical materials about Ithaca College and its predecessor institutions Ithaca Conservatory of Music and Ithaca Conservatory and Affiliated Schools.