Logo:
13 Broad Street
Hamilton, NY 13346
Phone: 315.824.3060
Fax: 315.824.8420
About
The Hamilton Public Library serves the Village of Hamilton, New York and surrounding areas. In its operation, it gives particular attention to the recreational, informational, and cultural needs of the community. Through its own services and programming and through its affiliation with the Mid-York Library System, the Hamilton Public Library provides access to many forms of information, including print, audio, video, and internet access.
This collection contains high school yearbooks from the Hamilton Central School District.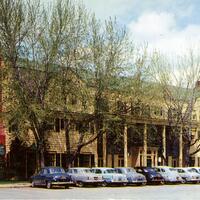 The postcards in this collection depict various buildings and street views around the village of Hamilton, NY.
This collection contains photographs of the New York, Ontario and Western Railway near Hamilton, NY.