Wantagh Railroad Elevation Project
Cover Image: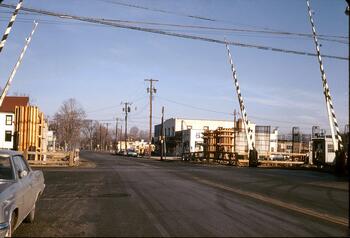 Historical Context
During the 1960's the LIRR continued a modernization plan of elevating the railroad tracks of its Babylon trunk line in Nassau County's South Shore. The project embraced a number of villages at this stage of the upgrade including, Merrick, Bellmore, Wantagh, Seaford and Massapequa Park. Massapequa had been raised at an earlier period. It's believed Rockville Centre, Baldwin and Freeport stations were raised during the 1950's.
The project began in Wantagh in 1965 with the laying down of temporary tracks slightly South of the original tracks. In 1966 the old Wantagh station was donated to the Wantagh Preservation Society and moved to a location a half mile North of the tracks on Wantagh Ave. The grand opening day was October26,1968 and the temporary tracks were removed by November,1968.
In 2000 the ground level part of the station ticket and waiting area underwent a modernization.
From 2016 to 2018 the elevated platform of the station was replaced with a new waiting area, escalators and an elevator.
Scope of Collection
The bulk of this collection of photos was taken by Warren Hiltonsmith during the time of the grade elimination project. Warren and his wife Marion Hiltonsmith were founding members of the Wantagh Preservation Society. He also served as president of the society.
In addition to the elevation project, he also took pictures of the restoration of the original Wantagh railroad station at its new park setting. Along Railroad Ave a number of buildings were demolished due to the elevation project. Mr. Hiltonsmith documented these buildings with snapshots.
---
Browse within this collection
Additional Information
Scope and Content Source:
Browse similar collections