Ten Eyck Fonda Collection
Cover Image: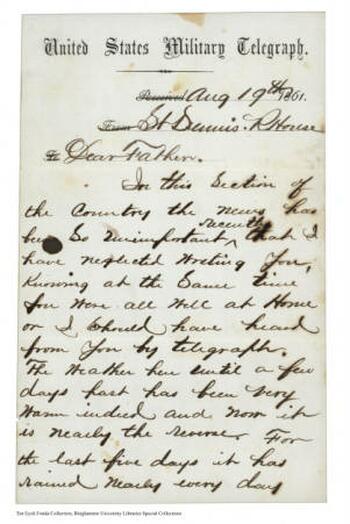 Collection Facts
Dates of Original:
1861 - 1863
Historical Context
The American Civil War was fought between the years 1861 - 1865 between the Union (the North half of the country) and the Confederates (the South half of the country). The war began over the disagreements between the North and South regarding slavery. The Civil War is known for having more American deaths in a war than any other war America has been a part of.
Scope of Collection
The Ten Eyck Fonda Collection consists of twenty-six letters written by Fonda while serving as a telegrapher for the United States Military Telegraph Service during the Civil War, and one political campaign card. Fonda was from Fonda, Montgomery County, New York. The letters were written to his immediate family and date from July 12, 1861 to June 14, 1863.
The content of Fonda's letters to his family describe the perilous job of maintaining the Union's telegraphic lifeline, provide first-hand accounts of battles and their devastation, and reflect concerns about the capability of the Union Army. He also includes description of the towns, their remaining inhabitants and the destruction inflicted upon them.
---
Browse within this collection
Additional Information
Scope and Content Source:
Browse similar collections