Sports and Recreation in Schenectady New York
Cover Image: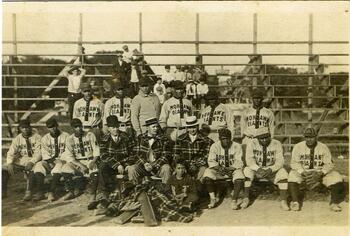 Collection Facts
Dates of Original:
c. 1880 - 1990
Historical Context
Schenectady is a city near Albany, New York. Schenectady was, and still is, a prominent area for sports and recreation activities. The city was home to the Schenectady Blue Jays, a minor league baseball team, from 1946 - 1957. It is also an area known for boxing and golf. The local parks have areas for swimming, boating, biking, and plenty of additional recreational activities.
Scope of Collection
This collection features photographs of various sports and recreational activities in Schenectady County. Images in this collection include photographs of local baseball team the Schenectady Blue Jays and Schenectady's professional Negro baseball team, the Mohawk Giants. Also included are images of parks, bicycling, boating, golfing, football, and other recreational activities around Schenectady County.
---
Browse within this collection
Additional Information
Scope and Content Source:
Browse similar collections