Scrimshaw & Baleen Objects
Cover Image: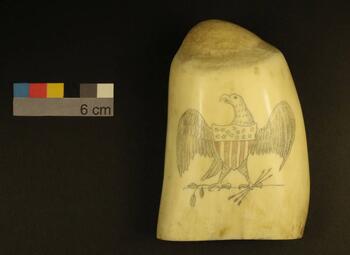 Historical Context
Scrimshaw is an uniquely American craft originating in the late 18th century and continuing well into the 20th rising and falling with the whaling industry. A wide variety of objects were created using whale teeth, whale bone, walrus tusks, and porpoise bone. Scrimshaw and whale ivory elements were used to embellish household objects such as pen handles, canes, and sewing implements or as decorative objects in their own right.
The Scrimshaw and Baleen objects in this collection were assembled through various donations during the Museum's 80-year history. Major donations include:
The first major scrimshaw donation in the Museum's history came from one of the Museum's founders, Mary J Holmes. Her collection of scrimshaw teeth and jagging wheels formed the basis of the objects on exhibit in the 1940's.
Several of the Museum's finest examples of scrimshaw teeth and tusks were donated to the Museum in 1954 by Captain Marion Eppley.
The bulk of the Museum's whalebone and baleen busks were donated in 1965 by Weston Howland. He also collected various functional scrimshaw objects including clothespins, jagging wheels, and bodkins.
Scope of Collection
The collection consists of 19th and early 20th century objects that include whale bone, whale teeth, baleen or intricately carved surfaces such as coconut and walrus tusk. Much of the material dates to the mid-18th century with some more modern pieces. It was assembled to give context to represent the wide variety of objects that utilized scrimshaw in the 19th century.
---
Browse within this collection
Additional Information
Scope and Content Source:
Browse similar collections