Pilgrim State Hospital Blueprint Collection
Cover Image: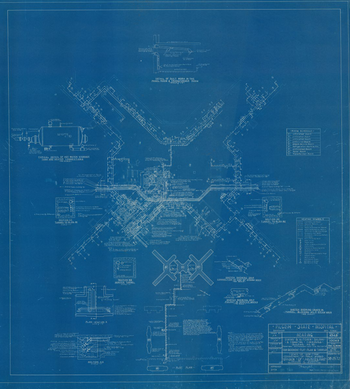 Historical Context
Constructed in the 1930's, by the 1950's, Pilgrim State Hospital had become the world's largest psychiatric hospital, with more than thirteen thousand patients and several thousand staff members. The hospital became known as a "free city" and included among its many facilities, farms, power stations, laundries, a train station, post-office, and fire-department.  
In 1996, Pilgrim State Hospital merged with Central Islip and Kings Park Hospitals and the name was changed to Pilgrim Psychiatric Center, which it is called today.
The materials - original construction plans from the 1930's - were purchased by Glenn Annarumma from the Moreland family in 2022, then donated to the Brentwood Historical Society on March 20, 2023. They are housed in the Brentwood Public Library.
Scope of Collection
A collection of 48 large blueprints used in the construction of Pilgrim State hospital. The blueprints show minute details for the original construction and layout of several iconic buildings.
---
Browse within this collection
Browse similar collections