Cover Image: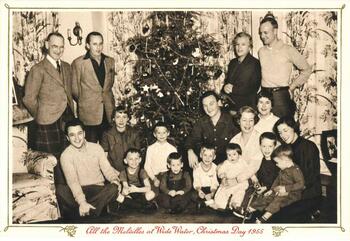 Historical Context
In 1978 Charles L. Sachs, an independent consultant, was hired to inventory the collection while still in the possession of the family. Mr. Sachs produced handwritten inventories of the papers. The historical society received the collection in 1990 from the family.
The collection was processed in 1997 and 1998 and a finding aid was created. That finding aid has been updated and can be found by searching "Melville Family Papers" at https://www.empireadc.org/
Scope of Collection
The collection consists of the papers of Ward Melville and other family members influential in the development of the Three Villages whose visions built the Three Villages of today. Their interests were not only in the economic and business development of the area, but also in the areas of education, historic preservation and environmental issues. A history of the Three Villages would not be complete without these individuals. They supported numerous community organizations and projects. 
The items and recordings found here were digitized through The Three Village Historical Society's partnership with LILRC's Accessing Archives Project.
---
Browse within this collection
Browse similar collections