Lynbrook Movie Theatre Programs (1932-1937)
Cover Image: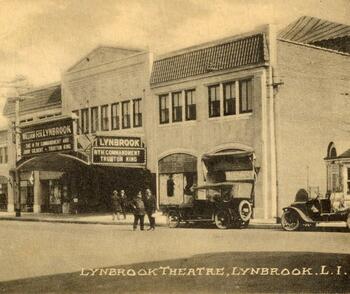 Historical Context
The Lynbrook Movie Theatre was built in the early 1920s by Salvatore Calderone and was located at 321 Merrick Rd until it was demolished in June 2016. At the time it was built, it was a single screen theater with a capacity of 1,500 seats. In the 1970s, the theater was divided into four screens and again in 1990 to create a six screen theater. It remained a six screen theater until it was closed in January 2016.  
The theater went through a number of different owners during its lifespan. After Calderone, it was owned at different times by William Fox, the Skouras Brothers, Century Theaters, United Artists, and Regal Cinemas.
Scope of Collection
These eighteen movie theater programs once belonged to a longtime Lynbrook resident, Alberta Schanzenbach (1911-1990), of 62 Harding Ave. The programs were donated to HSERL in 2018 by Michael and Mary McEnerney who were once neighbors of Ms. Schanzenbach.
These programs date from 1932 to 1937 and represent a period of film history that is known to film scholars as the Golden Age of Hollywood.
---
Browse within this collection
Browse similar collections