Cover Image: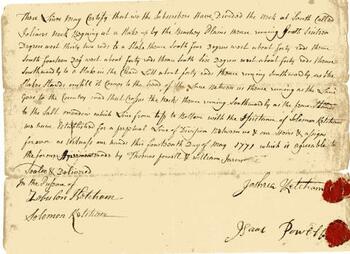 Collection Facts
Dates of Original:
1657-1762
Historical Context
In 1653, three men from Oyster Bay, Richard Holbrook, Robert Williams and Daniel Whitehead, purchased a parcel of land from the Matinecock tribe. This parcel has since come to be known as the "First Purchase" and included land bordered by Cold Spring Harbor on the west, Northport Harbor on the east, what is now known as Old Country Road to the south and Long Island Sound to the north. The three men immediately turned the land over to the white settlers who had already been living there.From that initial settlement, Huntington grew over subsequent years to include all of the land presently comprising the modern Towns of Huntington and Babylon.
Because Huntington was populated largely by English settlers, unlike the rest of the New Amsterdam colony, the town voted in 1660 to become part of the Connecticut colony rather than remain under the authority of New Amsterdam. It was not until the British gained control of New Amsterdam in 1664 (renaming it New York) that Huntington was formally restored to the jurisdiction of New York.
Scope of Collection
The collection consists of early deeds conveying land transactions between the Matinecock Indians and English settlers. Also included are agreements as to divisions of land between the early settlers themselves.
---
Browse within this collection
Additional Information
Scope and Content Source:
Browse similar collections