Historic Rockville Centre Maps
Cover Image: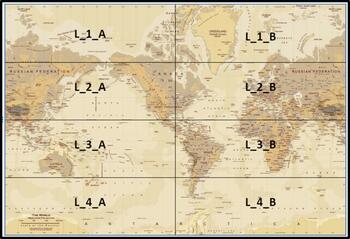 Scope of Collection
The collection contains historic Rockville Centre maps of which some are oversized. In order to digitize oversized maps, they have been scanned in a grid format. Each map was divided into rows and columns and scanned in sections. An effort was made to overlap sections to facilitate research and ensure that no areas were omitted.
As an example, the 1906 map showing the area known as Lower Rockville Centre (South of the Railroad) is divided into numbered rows (1–4) and lettered columns (A & B). Therefore, the top left corner of the map is identified with the name L_1_A, and the section directly south of that area is identified with the name L_2_A.
For reference, the rows and columns are displayed on the world map at left.
The remaining oversized maps in this collection will also be scanned in a grid format.
---
Browse within this collection
Additional Information
Scope and Content Source:
Browse similar collections