Erie Canal in Oneida County
Cover Image: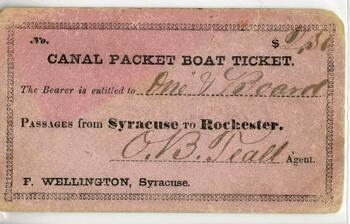 Collection Facts
Dates of Original:
1829 - early 1900s
Historical Context
The Erie Canal is a human-made waterway that was dug across New York State from Albany to Buffalo between 1817 and 1825. The canal transported goods, peoples, and ideas, and was a revolutionary development in transportation. The first shovelful of dirt was dug in Rome, NY on July 4, 1817, and the first section to be completed spanned from Rome to Utica. Two branch canals reached their terminus in Oneida County: the Black River Canal and the Chenango Canal. 
The construction and growth of canals stimulated the development of Oneida County changing its landscape and demographics forever. The county's population was 22,837 in 1800 and reached more than 71,000 by 1830. This increase in population was accompanied by economic growth, industrial development, and an influx of new ideas and cultures from people who migrated and immigrated to the region to build and maintain the canal, provide goods and services, and those who found work in the many newly formed communities along its route.
Scope of Collection
This collection contains documents and photographs relating to the Erie Canal in Oneida county.
---
Browse within this collection
Browse similar collections