Cover Image: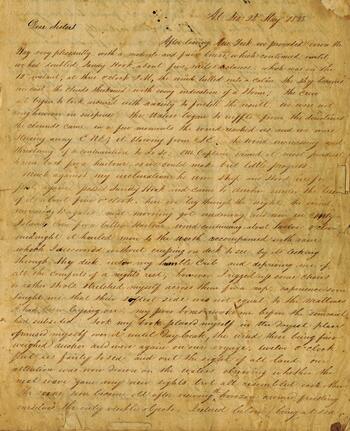 Historical Context
John Divine Jones (1814-1895) was the son of John H. Jones and nephew of Walter R. Jones, two of the principal figures in the Cold Spring Harbor Whaling Company. In 1829, at the age of 15, he accepted a clerkship in the Atlantic Insurance Company in New York City where he laid the foundation of his career in the mercantile trade. In 1842 he was elected secretary of the Atlantic Insurance Co. and by 1849, he was chosen as second vice president. In 1859, following the deaths of both his father and his uncle, John D. Jones became president of the Company. Under his leadership as president the Company enjoyed great success, and he served in that position until his death in 1895.
The Disston Papers were loaned to the Museum by Mrs. Eleanor Disston of Laurel Hollow in 1972 and donated in 1987.
Scope of Collection
The collection consists of a handwritten 12-leaf/24-page manuscript (in the form of a letter or journal) written by John D. Jones to his sisters while at sea aboard the Expeditious from 24 May 1835 to 12 June 1835, when he was 21 years old. The manuscript recounts a voyage made by Jones from New York to the Island of Nassau in the Bahamas. In this narrative, Jones describes the sights at sea; the weather; the nature of the Island of Nassau and its society, which consisted of white plantation owners and black natives; the people he met during his stay on the Island; and problems encountered with the ship's Captain.
---
Browse within this collection
Additional Information
Scope and Content Source:
Browse similar collections