Dr. David Sherwood Kellogg Journals and Archaeological and Historical Materials
Cover Image: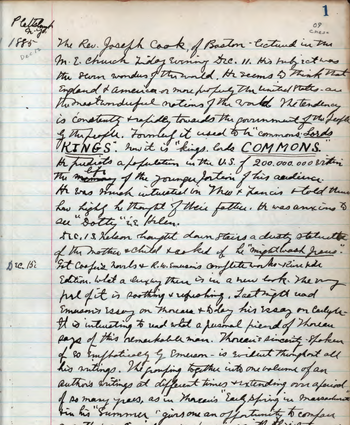 Collection Facts
Dates of Original:
1756-1965, bulk 1865-1909
Historical Context
David Sherwood Kellogg was born in Essex, Vermont on October 21, 1847.  He attended the University of Vermont (UVM), receiving his A.B. degree in 1870 and his M.D. in 1873.  He taught at various schools and interned at Hartford Hospital in Connecticut for a brief period before moving to Plattsburgh, New York on April 7, 1874. In 1875, Dr. Kellogg married Elizabeth Stafford Smith of Burlington, Vermont.  They raised five children: Robert, Nelson, Elizabeth, David, Jr., and Francis Fellows.  In addition, the doctor and his wife inherited guardianship for his sister's three children.  Theodora, Helen, and Francis Kellogg Kyle went to live with their "Uncle Wood" after their parents, Fannie and Osceola Kyle both had passed away. From 1874 until his death in 1909, Dr. Kellogg had a prominent medical practice in Plattsburgh, with the delivery of babies constituting the majority of his professional calls.  He was a member of the Board of Pension Examiners for local veterans and several times acted as interim Post Surgeon at the Plattsburgh Barracks. In addition to his professional duties, Dr. Kellogg had a wide range of other intellectual interests.  He was a well-recognized authority on Native-American and military archaeological sites in the Champlain Valley region.  He had a collection of 13,000 artifacts which were sold to Arthur C. James of New York, who donated them to the Gilbert Museum of Indian Relics at Amherst College in Massachusetts.  Dr. Kellogg made major discoveries at Cumberland Bay near Scomotion Creek (aka Dead Creek), and his knowledge of local sites was highly regarded by the archaeological experts Parker and Beauchamp. Dr. Kellogg was also interested in other aspects of local history.  He interviewed elderly citizens and former soldiers and he wrote essays and gave lectures to historical societies in the region and as far away as Montreal.  He was active in several historical and medical societies and was the initiating force behind the establishment of the Plattsburgh Institute. 
Scope of Collection
Personal journals; medical and historical notes; archaeological documentation and drawings; interviews with local citizens and veterans; addresses on medical, archaeological, and historical subjects; commemorations of local military events and sites; a scrapbook of local history and Native-American artifacts; family correspondence and genealogical information; and children's stories. 1756-1965, bulk 1865-1909
---
Browse within this collection
Additional Information
Scope and Content Source:
Browse similar collections